1/30/2010
Twice a year in South Korea comes the dreaded time known as "Intensives". This is when the public schools take a 1 month break in the winter and another 1 month break during the summer.

Since kids are not in school during the day, all the different types of academies (math, science, English, piano, etc.) offer "Intensive" classes, which are basically just day classes supplementing the afternoon/evening classes. This means that all English teachers have a double load of classes for about a month.

I was lucky this round, since I had a small group of excellent students who actually made teaching my Intensive class quite enjoyable. One particular quirk of this class was that the students REALLY enjoyed it when I played music while they worked. They would sit and sing or whistle to the music while doing all their bookwork.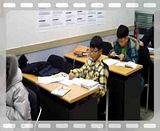 I did have some fun this month so I'll try to catch everything up here.

First, a group of us went to Seoul for shopping and to help one of the new teachers find the only Jewish synagogue in Korea. So, here's Tyler standing beside an menorah for Hanukkah made out of ice: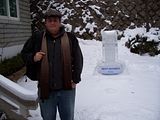 Because of the snow, many of the outside "shops" weren't set up, so we went exploring. In one building we found row after row of small shops selling what must be Bali-wood dance outfits.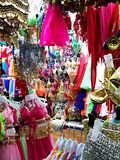 We found a couple of good buys while we were shopping (and had some tasty Mexican food in Itaewon). The highlight of the trip though was the pie shop that made absolutely incredible apple pies... as well as banana creme, rhubarb, and others: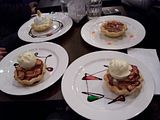 While walking around, we happened to go past the old eastern gate of Seoul which is beautiful, especially when it's lit up at night.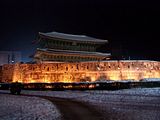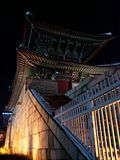 Last weekend, a different group of us went to Expo Park, a small amusement part here in Daejeon.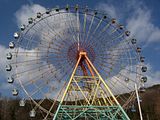 I'll post more pics/videos of that later, but the highlight of the day was ice skating-- my first time ever!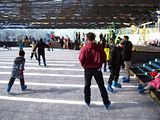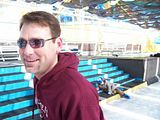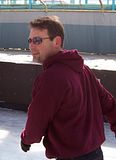 So... now that life is getting back to normal, I can catch up on emails, etc.