10/01/2009
Well, since I am actually working while I'm here, I thought it might be good to show a typical day in the life of an English teacher at a hagwon (private English school) in Korea.

I happened to wake up early this morning and caught an incredible view of the sun rise on the mountains.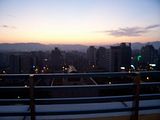 After doing some chores around the house (ok, I admit I also went back to sleep for a bit), I get up and walk down to school about 2pm or so. This is the street I walk down each day.




I teach two 3-hour classes each day (6 hours total) which start at 4:30 and 7:30 respectively for a total of 30 hours of teaching each week. Teachers at public schools and other hagwons don't usually teach as many hours in a week (some as few as 22) but the pay reflects the amount of work involved. Chung Dahm requires all teachers to clock in 20 minutes ahead of class time (so at 4:10) but most of the teachers are there between 3 and 3:30 to prep for the day's classes. Since I'm new and still learning the curriculum, it still takes me a little longer to do my daily prep. Still, working from 2:30 or so until 10:30pm is still only 8 hours a day.

Classes are broken down first by skill level (not grade), then by age... so all the students in the class are about the same English profiency even though the ages may range by 2 or 3 years. At Chung Dahm, the 4:30 classes are usually upper elementary to middle school students and the 7:30 are middle school to high school. I do have to clarify that Chung Dahm also has "Chung Dahm April" which is very beginning English as separate facilities, as well as "CD Prep" which is college test prep level.
My students range in age from about 11 to about 15. I actually teach 4 different levels/classes each week: two levels of "memory English" (vocabulary/reading) and two levels of listening/speaking skills.

Here are some pictures of one of my "lower level" classes working on their daily critical thinking project: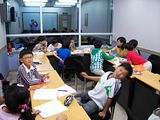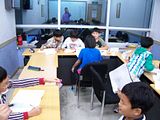 After work, different groups of teachers usually go do something together. Tuesday nights here is "soccer night" for our school, since teachers from a different branch of CDI here in town take the subway up to join some of our folks playing at the park beside city hall then have a few drinks. Since I'm not much of a soccer player, I opted to go to eat with a few other "non-players". We went back to the dak galbi (spicy chicken with vegetables) place I've mentioned before. This time I was able to get a lot more pics of the process of cooking the food. It starts with the chicken, which has been marinated in a spicy pepper paste, being cut up and put on the grill/pan (I posted a pic of that before). On top of that are added all the vegetables to cook.




Once the veggies are cooked, it looks like this:




This time we had solid red aprons instead of polka dot!!

After having dinner with one group, I stopped by the soccer field since it's on the way home. By now it was just about midnight and the game was finishing up. I then went with everyone to the convenience store on the next block, where everyone sat around having a beer and relaxing for an hour (or 2 or 3) at the end of the day: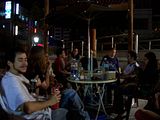 Then it's back to the apartment to straighten up a little and head to bed.