11/07/2009
So... it's finally payday in Korea! A few of us decided to celebrate by going out to eat crab.

While that may not sound like a lot, you have to understand that over here they have the largest crabs that I've ever seen in my life. Four of us shared one crab... which weighed 3 kilograms (about 10 pounds). The thing was enormous (and delicious).




It came with all kinds of appetizers/side dishes (gotta love Korean food!) including shrimp, oysters, fruit salad (kind of), seafood salad, etc.... and yeah, this pic is just the side dishes... the crab was still cooking.




... some of which we're still trying to figure out.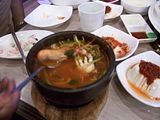 Then they brought us out the cooked crab, which they proceeded to cut up for us and arrange it so it actually looked incredible!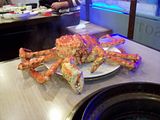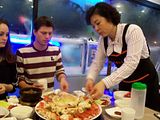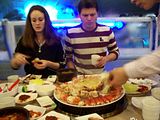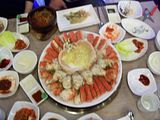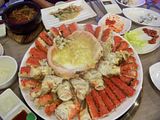 Although I must confess... I'm not sure if we had more fun eating our food.. or playing with it!