11/29/2009
A group of the American teachers got together at my apartment this week to celebrate Thanksgiving.

We had to substitute a couple of roasted chickens for the turkey... since you apparently can't find a turkey anywhere in korea... but other than that we had a pretty traditional Thanksgiving Day dinner.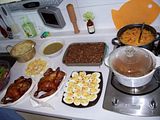 We had a really good time... and of course we ate waaaaay too much.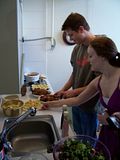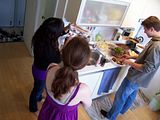 We had a good time sharing our family holiday traditions.... for Thanksgiving, Christmas, and New Year.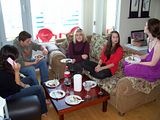 Of course, we had to go to work after since Thanksgiving isn't a Korean holiday... but oh, well...


Oh... and yes, that is my new sofa you see in the pictures!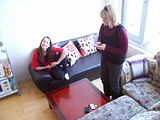 It was delivered about 11am on Thanksgiving day... just in time for everyone to break it in! And it's exactly what I wanted... 'except I didn't realize how low to the ground it would be. I forgot how short Asian furniture is. Because of the heated floors, they like to be down low. But, that aside, I think I did a great job for my first online purchase in Korea

Of course, now I've got to get the other moved out so that you actually have room to move around the apartment!