9/05/2009
Wow…

It's Saturday morning already.

The past few days have been a complete blur.

I arrived in the country on Wednesday evening. My flight from Atlanta to Seoul on Korean Air took roughly 14 hours. All in all, it was rather pleasant. We were served 2 meals and several snacks while on board. My favorite meal was a korean dish called BiBimBap. It consists of a bowl containing several types of vegetable and a ground meat (probably beef) with steamed rice served on the side. The rice is then taken and mixed up in the vegetables, with sesame oil and a spicy seasoning pasted stirred in as well. It was quite good. On the plane there were small monitors built into the back of the seat in front of you so that you could watch a variety of movies and tv shows. There were quite a number to choose from. You could also play some basic computer games, like Free Cell or chess, on them.

The school had a driver waiting on me at the airport who brought me back to the Hotel Provista in Seoul where I'll be staying at for the next week or so. The hotel is pretty decent, probably the equivalent of a Comfort Inn back home. It is clean and comfortable. It even has a small kitchenette complete with a washer/dryer.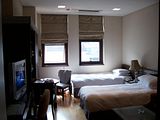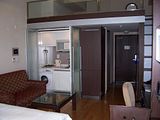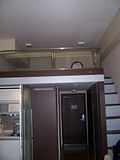 It turns out that while here in Seoul, I'll have a roommate (something I wasn't aware of.) Apparently, there has been a mixup with my email address. Some of the training schedules, roommate info, etc. was sent to my old email address at the college.

My roommate is a Korean American from California who just graduated college. He's a really nice guy—who speaks Korean! Since he has relatives here in Seoul, he came in a couple of weeks early and has been visiting them so he already has his bearing on how to get around the city. It's been great having him here to act as "tour guide".
There are 6 of us from CDI staying at this hotel that will be going through training together. Together, we have been exploring the city in our free time. On Thursday, we all went for drinks/appetizers at a bar/restaurant in Gungnam (one of the dozens of neighborhoods into which Seoul is divided). I have to put it as drinks/appetizers at a bar/restaurant because apparently in Korea if one is just going to a "bar" for drinks you are automatically expected to buy "anju" or appetizers to go with your drinks. Our appetizers were french fries (which consisted of several different types of fries served together—including tater tots) and kimcheejun, which is a kimchee pancake (it tasted very much like latkes—potato and onion pancakes). The kimcheejun was VERY good—definitely something to try again. As to drinks, we had some korean beer (more about the korean beer later) and soju. Soju is a korean drink that is basically sweetpotato vodka. It can be served alone, but is usually mixed with some kind of fruit juice. We had on pitcher of soju with peach and one pitcher of soju with yogurt (very thin). Both were really tasty.

After having drinks with the other teachers, I left to go meet a friend of mine who is a teacher in Beomgye, a neighborhood in the very south of Seoul. This meant taking the subway by myself. Fortunately, I had a map and the stations are called out in "english" (that is the anglicized version of the names) so I didn't have any problems getting there.

My friend took me to eat one of his favorite korean dishes at a restaurant. We sat at a round table that had a cooking device in the middle (basically an open flame). The server brought out a large pan that contained a mixture of chicken, kimchee, sesame leaves, and "rice cakes" which are like ziti noodles except solid and chewy. The pan was placed over the open flame, apparently to keep the food hot. On the side we were served fresh lettuce and sesame leaves. You took the mixture and placed it on either a lettuce or sesame leaf, rolled it up into a ball, and ate the whole thing at once. It was tasty, but waaaaay too spicy for me. I drank another beer while eating with my friend—which leads me to the headache.

Apparently, Korean beer companies use formaldehyde in the brewing process. The result of this is a splitting headache if you drink more than one or two. A couple of hours after drinking it, the headache kicked in for me… and I have never had such a headache in my life. Note to self: drink soju, avoid beer!

After eating, my friend took me to a local jimjilbang. Jimjilbang is a VERY korean thing that really doesn't have anything to compare in the US. The closest thing to say is that it is a bathhouse, but it is much more than that.

When we arrived and paid our 8,000 won (roughly $7) we were given a change of clothes (kind of like medical scrubs) and a key to a locker. We went to the men's section, where we stripped down, put everything in the locker, and went to take a shower. There are separate sections for the men and women, each containing numerous hot tubs set at different temperatures, a variety of dry saunas, cold baths, saltwater baths, an area where you can get a full body scrub, etc. After showering, we took our turns in several of the different hottubs and baths. It was very relaxing.

When we finished in this section of the jimjilbang, we went back to our locker and dressed in the clothes we had been given . We then went to the "common area" where both men and women are allowed. Here, there were several sleeping rooms, where people would simply find a spot on the floor and lay down to sleep. There were even "clay tunnels" which were just big enough for a person to crawl into to sleep. There were also some large dry saunas that were only mildly warm where essential oils were used as aroma therapy. A few people could be seen lying in these rooms as well. We laid down in the "Geranium room" for a while… and the warm tile floor was wonderful. I dozed off myself for a bit.

After that, we went up on the roof which had a garden complete with a walking path made of various sizes and shapes of stones designed to massage your feet. It was amazing to be in the middle of this massive city and find such a peaceful place on the roof of a building. From there, we went back down, showered off again, and headed out refreshed and relaxed. This is definitely something I look forward to doing again.

Yesterday, we had our orientation for CDI. I learned why CDI is being so particular about quarantines, swine flu scares, etc. Until about 5 months ago there were only 4 cases of swine flu in Korea. At that time, CDI would have all the incoming teachers stay at the same hotel and complete training together. Apparently, there was a group of about 20 teachers going through training—one of whom had contracted swine flu. No one was aware of this until after the teachers had all gone to their various schools… sick. You can imagine the rest of the story. Soooo… CDI is being EXTREMELY careful not to have a repeat of that occurrence. The school has us taking our temperatures twice a day, as well as having someone at the training center check it for us daily during training. Oh yeah, and we were given maskes to wear and were told we have to wear masks during our whole time training!

In our orientation, we had a few short tests to take covering some basics reading and grammar skills, as well as a test on the history and culture of Chung Dahm. We all did great on the english skills—but most of us failed the Chung Dahm culture test by one or two questions, so we were given material to study and we'll be retested on that during our training session Monday. After our orientation , we came back to the hotel, changed clothes, and went to buy ourselves comfortable masks. The ones they gave us were SOOO uncomfortable.

We then went out to eat at a "Korean Barbecue" restaurant. This food was absolutely delicious!! We sat on the floor at tables that had a kind of grill built into them. We were brought cut up pieces of pork—it looked a little like thick squares of bacon. These were placed on the grill and we basically grilled our own food as we were eating. We were also given thick slices of garlic to grill, as well as more kimchee. As sides, there was the lettuce and sesame leaves again for wrapping food and what looked to be julienned green onions with some kind of seasoning on them. There were also small dipping bowls of sesame oil with salt and pepper and a red spice paste. The way to eat the barbecue was to take a lettuce leaf and pile everything else on top of it—a piece of pork that'd been dipped in the sesame oil, a slice of garlic, some of the green onions and the spice paste. Then, it's just all rolled up and shoved in your mouth. It was soooooo good. I ate until I was absolutely stuffed.

Afterwards, we went to different bar/restaurant for drinks. This time the anju was a "fruit bowl". Now, this wasn't like any fruit bowl I'd ever had before. It was like a cold fruit soup. There were chopped up apples, oranges, watermelon, cherry tomatoes and raisins in a thin yogurt. It actually tasted pretty good… but I just couldn't do the cherry tomatoes. This time we had soju with pineapple juice—also very good. The pitcher of soju, another bottle and the appetizer was only 5,000 won a piece (so about $4) and we were all pretty buzzed by the time we left.

From there we went to a club to dance. The music was a combination of American pop/hiphop (Lady Gaga, Flo Rida) and korean "k-bop". The club was absolutely packed… with probably 1000 or more people dancing. It was fun, but after a while it got really hot.. and the crowd really started picking up about 1am and just kept growing. One of the girls and I decided to leave about 2 and the others stayed on until about 4am.

And now it's the next morning… or actually it's just after noon… I know this is a long post, but I wanted to catch everyone up on what all's been happening. It's really been just one big whirlwind.

Oh… and I found out that I can't upload videos to youtube from Korea… so I'm trying to find a different way to post video clips of everything for ya'll to see.